From Saul Alinsky to Sheryl Sandberg: An Ethnography of Work Journey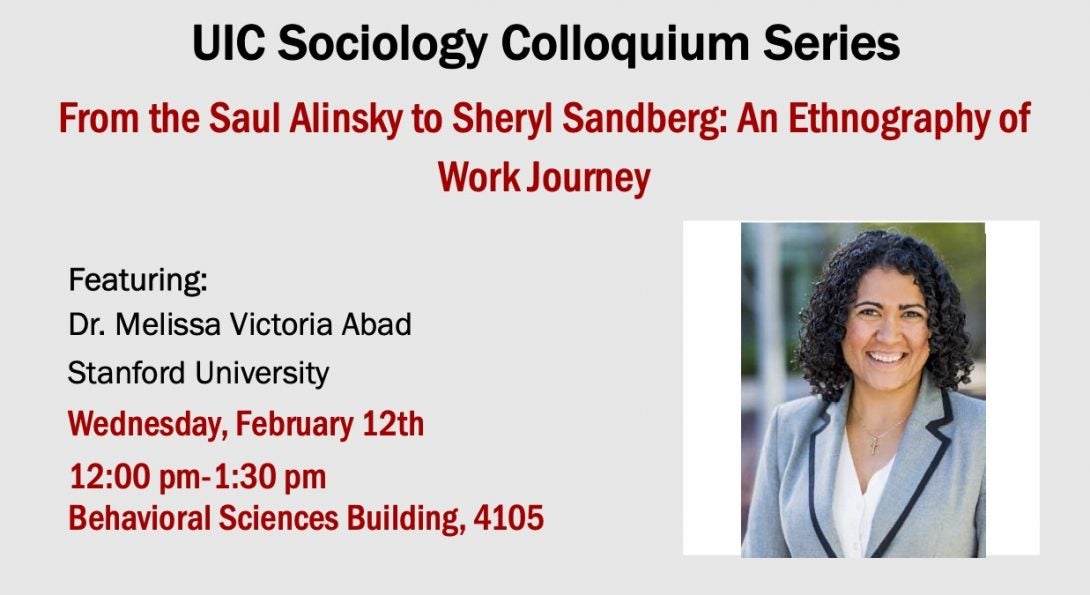 Dr. Melissa Abad - UIC Sociology Colloquium Series
Melissa V. Abad, PhD is a sociologist at the Stanford VMware Women's Leadership Innovation Lab, where she builds upon the Institute's engagement with intersectionality scholarship and leads the intersectional leadership research agenda. Dr. Abad completed her PhD in sociology at the University of Illinois at Chicago. She also holds an MA from the University of Chicago (Social Sciences) and an undergraduate degree in sociology from Northwestern University.
About this talk
Ethnographers have discussed the importance of reflexivity in talking about their research designs and data analysis. I present a reflexive essay on work ethnography that answers the following two questions: First, how does shared age/ similar career stage influence how ethnographers gain access and make sense of the phenomenon they're studying? Second, what does it mean to be nonwhite studying another nonwhite group of which you are not a member? Drawing from two and a half years of fieldwork in Silicon Valley, I describe what ethnography toolkit (Reyes 2019) resources were instrumental in gaining access to three different ethnic communities of professionals in my research on women of color in corporate America. In doing so, I provide an innovative understanding of what criteria research participants use to define one as an insider/ outsider and outsider- within. Revealing the nuanced criteria and the exercises I engaged in to gain access to networks of nonwhite professionals, I argue, is critical to employing intersectionality in workplace ethnographies.
Bring your own lunch and we'll supply the cookies and beverages!
Wednesday, February 12th
12:00 pm-1:30 pm
Behavioral Sciences Building, 4105