The Good University: Arguments for Change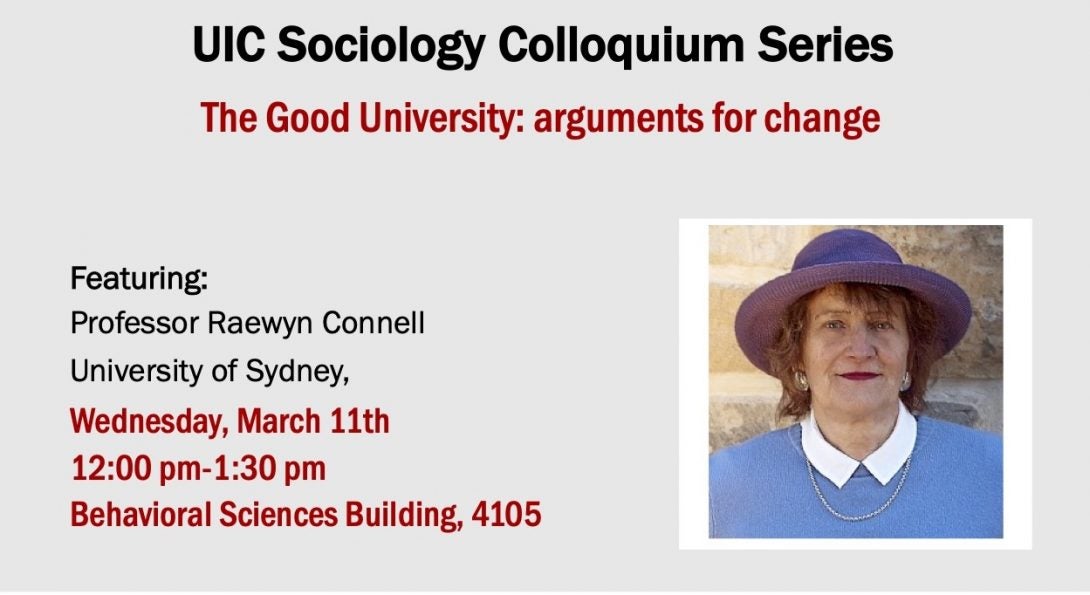 Dr. Raewyn Connell - UIC Sociology Colloquium Series
Raewyn Connell is Professor Emerita at the University of Sydney, and is a Life Member of the National Tertiary Education Union in Australia. Raewyn is a widely-cited sociological researcher; her work has been translated into nineteen languages. Her books include The Good University; Southern Theory; Masculinities; Gender and Power; Making the Difference; and Ruling Class, Ruling Culture. Raewyn has been active in the Australian labour movement and peace movement, and in work for gender equality and educational change. More details at www.raewynconnell.net and Twitter @raewynconnell.
About this talk
Higher education is doing wonderfully well: 200 million students worldwide, 2.5 million research papers published each year, and some university Presidents paid over a million dollars. Not to mention that student debt totals well over a trillion dollars, most of the university workforce are now in precarious employment, a corporate oligarchy controls our journals, and one corporation alone owns private universities in 10 countries with 150 campuses. How are we to understand this situation and act in it? We need to look at the deep background - the work universities do, their workforce, their ambivalent social effects, and the global economy of knowledge - as well as the managerial takeover and current struggles. We need to highlight the resources for hope (some are unexpected), and design democratic pathways for higher education and research.
These are themes of Raewyn's new book The Good University. Her talk will present key arguments, introduce the hidden history of radical universities, and invite discussion of paths forward.
Bring your own lunch and we'll supply the cookies and beverages!
Wednesday, March 11th
12:00 pm-1:30 pm
Behavioral Sciences Building, 4105