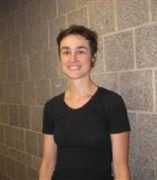 Carla Ilten
Graduate Student
Sociology
Contact
Building & Room:
4126B BSB
Email:
Related Sites:
About
Previous degrees:
Diplom (M.A.) Sociology and Technology Studies, Technische Universität Berlin
Specialty areas:
WOE, especially science and technology studies (STS), social movement and organization theory, economic sociology, theory
Research interests: 
I am fascinated by how people use organizations and technologies to structure social and economic relations. Phenomena such as online platforms or cooperatives currently capture my sociological imagination the most: How are design, ownership, governance, power, and practice interrelated? I engage with work from organization theory, economic sociology, STS and media studies to think about these relations between form and content. Most recently, I have completed a discourse analysis of a microvolunteering platform, investigating how managed online infrastructures change the relationships between volunteers and organizations. At UIC, I am a member of the Center on Organizational Dynamics work group. Prior to moving to Chicago, I was the junior project manager of the three-year EU funded PATS project at the Center for Technology and Society (TU Berlin).
M.A. Title: "Sociotechnical Innovation by Civil Society Actors. A Case Study of the Wireless Community Networks Project illustrating the Approach of Social Niche Management" (title translated from German)