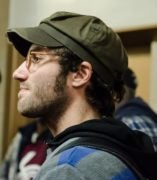 Chris Poulos
Graduate Student
Sociology
Contact
Building & Room:
4065 BSB
Email:
About
Previous degrees:
B.A. Sociology, Northeastern Illinois University
M.A. Urban Planning and Policy, University of Illinois at Chicago.
Specialty areas:
Work, organizations, economy concentration: urban political-economy; neoliberal urbanization; privatization and financialization of urban space, polity, and economy; real-estate markets; and urban crises.
Research interests: 
I am interested in the central role of financial markets, institutions and their intermediaries in contemporary urban political-economy. As municipal governments haved turned to financialization as a means of expanding urbanization and competing on a global scale, the pecuniary logic of finance has generated a full spectrum restructuring of state institutions, from the provision of public services to the reconfiguring of revenue streams. I am fascinated by the complexity and power of financialization and the interaction effects between the growing pools of global capital seeking profitable investment opportunities, revenue starved state institutions (federal, state and local) and the machination of key local actors. I am committed to public sociology as an avenue to engage with policy-makers, community-based organizations and activist communities committed to social change. I see the primary role of urban sociologists as translating the sometimes complex data, trends, and social, political and economic phenomena of cities into a digestible and practical set of recommendations.