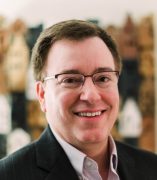 Michael O. Emerson, PhD
Department Head, Professor
Sociology
Contact
Building & Room:
BSB 4112E
Address:
1007 W. Harrison St. Chicago, IL 60607-7140
Office Phone:
Email:
CV Download:
About
Michael O. Emerson (Ph.D., University of North Carolina, 1991) is Professor and Head in the Department of Sociology, with a courtesy appointment in the College of Urban Planning and Public Policy.
He has published widely in the areas of race, religion, and urban sociology.  He is the author of 15 books and nearly 100 other publications, secured over 7 million dollars in research grants, helped secure over 20 million dollars in institutional grants, and has won several national awards for his research.
He has published widely including with Oxford University Press, Princeton University Press, ASR, AJS, and Social Forces. His research and expertise have been featured in hundreds of media outlets, including CBS Evening News, NPR, the Wall Street Journal, CNN, the New York Times, and USA Today.
Dr. Emerson has won seven teaching awards and mentored many undergraduate and graduate students.  He has served as chair of the ASA's Public Understanding of Sociology Award, Chair of the ASA's Religion Section, President of the Association of the Sociology of Religion, on the Council of ASA's Racial and Ethnic Minorities Section, and is a founding associate editor of ASA's Sociology of Race and Ethnicity journal.
Most recently he and Dr. Glenn Bracey of Villanova University have been conducting the most comprehensive study of race and religion ever conducted in the U.S. Funded by the Lilly Endowment, several books and articles are forthcoming from the project, including The Grand Betrayal: The Agonizing Story of Race, Religion, and Rejection in American Life (likely a publication date of spring or summer 2022).
He also is working with graduate students Isaiah Jeong and Tryce Prince on several articles, including one on an overarching framework for studying urban environments.