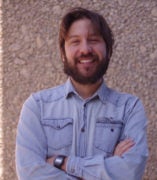 Enrique Alvear
Graduate Student
Sociology
Contact
Building & Room:
Sociology Office: 4176D BSB
Email:
About
Previous Degrees:
B.A. Philosophy, Universidad Jesuita Alberto Hurtado, Chile
B.A. Theology, Pontificia Universidad Católica de Chile
M.A. Latin American & Latino Studies, University of Illinois Chicago
Specialty areas:
Immigration Detention, Prison Sociology, Critical Security Studies, Latino/a Studies, Latin American Political Philosophy, Liberation Theology
Research interests:
Enrique's experiences of the Chilean military dictatorship made him interested in the intersections between the state, crime and penal institutions. His experiences offering legal and psychological counseling to immigrant women imprisoned in Chile led him to pursue a PhD in Sociology. At UIC, he will interrogate the intersections between immigration enforcement and mass incarceration, and compare the criminalization of irregular immigration in the US and Chile.