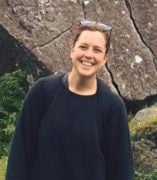 Erin Eife
Graduate Student
Sociology
About
Previous Degrees:
B.A. Sociology and Politics, Fairfield University
M.A. Social Science, The University of Chicago
Research interests:
I am interested in the role of the criminal legal system on the lived experiences of people who come into contact with it. My past research looks at the impact of felony convictions on political participation and access to resources during re-entry. My current work looks at the ways in which people in the pretrial stage experience measures of surveillance and control.