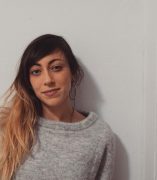 Marni Fritz
Graduate Student
Sociology
Pronouns: She/Her/Hers
Contact
Building & Room:
4005 BSB
Email:
About
Previous Degrees:
B.A. Anthropology, SUNY Geneseo
M.A. Sociology CUNY Brooklyn College
Specialty Areas:
Race, Whiteness, Gender, Organizations, Social Movements, De-/Postcolonial Theory
Research Interests:
I am interested in how organizations are racialized and how social justice nonprofits perpetuate racism internally, while attempting to combat injustice on a societal level. Generally, I am interested in how White normativity shapes seemingly "objective" spaces.
M.A. Thesis:
"The Sunken Place: Extractivism, White Normativity, and Violence in Social Justice Nonprofits,"
Completed at Booklyn College used semi-structured interviews and content analysis to examine structural inequality on the meso-level in social justice nonprofits.