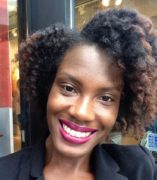 Herrica Telus
Graduate Student
Sociology
Contact
Building & Room:
4075E BSB
Email:
CV Download:
About
Previous degrees:
B.A. Psychology, University of South Florida
M.A. Sociology, University of South Florida
Specialty areas:
Ethnic Organizations, Race & Ethnicity, Gender, Immigration, The Caribbean
Research interests: 
Broadly speaking, I'm interested in the role ethnic organizations play in the lives of immigrants and how these types of organizations influence the ethnic identities of immigrants. Also, I am interested in how ethnic organizations promote cultural awareness and maintenance.
M.A. Thesis Title: "Ethnic Identities among Second-Generation Haitian Young Adults in Tampa Bay, Florida: An Analysis of the Reported Influence of Ethnic Organizational Involvement on Disaster Response after the Haiti Earthquake of 2010"