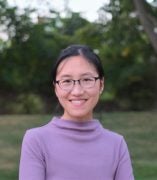 Jialin (Camille) Li
Graduate Student
Sociology
Contact
Building & Room:
4051 BSB
Email:
CV Download:
About
Previous degrees:
M.A. & B.A. Sociology, East China Normal University, Shanghai, China.
Specialty Areas:
Gender, Consumption and globalization, urban space, body and technology, China
Research interests:
I am interested in reproductive health and culture, gender, environment, and Chinese Society. My dissertation follows the pregnancy, childbirth experiences as well as the early stage of infant feeding among a diverse group of women in Shanghai. I argue that the unsettled but drastic economic and social development in post-socialist China has generated a gendered burden that takes shape as anxious mothering for middle-class mothers and culturally exclusive mothering for rural-urban migrant mothers. I have published articles in The China Journal, The Chinese Journal of Sociology, and Sage Research Method Cases.
I received my B.A. and M.A. in Sociology from East China Normal University (Shanghai). Currently, I am living in New Jersey with my husband and our 13-month-old daughter.
M.A. Thesis Title: Urban Street Vendors: Flexible resistance beyond regulated space-the example of street vendors near E. University