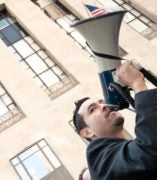 Jorge D. Ortiz
Graduate Student
Sociology
Contact
Building & Room:
4074 BSB
Email:
CV Download:
About
Previous degrees:
B.A. Sociology, University of Illinois at Chicago
Specialty areas:
Race, Segregation, Organizations/Institutions
Research interests:
My current research looks at suburban residential segregation. Specifically, I look at how private and public institutions in and around a majority-white suburb respond to the impressive growth of their Latino population. I find that while both, majority-white suburbs, and minority-majority suburbs manifest mechanisms that negatively targets Latino populations, it is the latter which implements the most outright racist policies targeting their Mexican population. My research adds to the body of literature on "new immigrant destinations," as well as on the study of "white" institutions, and "whiteness."
M.A. Title: "The Perpetuation of White Suburbia "