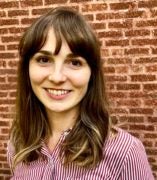 Katharine McCabe
Graduate Student
Sociology
Contact
Building & Room:
4173 BSB
Email:
About
Previous degrees:
B.A. Southern Methodist University
M.A. Fordham University
Specialty areas:
Gender, Race, Reproductive Politics, Social Movements, Mixed Methods, Feminist Epistemology, Medical Sociology, Institutions, Organizations, & the State
M.A. Thesis Title: "Exploring Student Responses to Dating Violence on a Campus: Does Context Matter?"