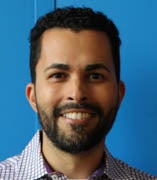 Kevin Lamarr James, PhD
Teaching Assistant Professor & Director of Undergraduate Studies
Sociology
Pronouns: He/Him/His
Contact
Building & Room:
4132 BSB
Address:
1007 W Harrison St.
Office Phone:
Email:
About
Joint Appointments: African American Studies
Kevin Lamarr James is a sociologist with specialization in race, ethnicity and gender. Having served in both faculty and administrative roles, he has demonstrated commitment to teaching and community engagement that supports student academic and career success.
Notably, in 2010, James became the first African American male to earn a doctorate in Sociology at UIC.  In addition to teaching courses in Sociology and African American Studies, he is currently piloting a dual-enrollment initiative with Whitney Young High School, in an effort to attract academically ambitious Chicago Public School students to attend UIC. He serves on the advisory board for Village Leadership Academy (an independent school in Chicago), and is a 2015-2016 fellow in the Chicago Urban League and University of Chicago's Booth School of Business IMPACT Leadership Program.
While at Adler University, serving as Director of Community Engagement, James developed and maintained strategic partnerships with more than 200 community-based organizations in Chicago.  Working in collaboration with faculty, he developed, implemented and evaluated a 23-week social justice curriculum and internship program for over 300 first-year students.  This program was integral to the University receiving the 2015 Carnegie Community Engagement Classification, an institutional honor, for the investment in activities that strengthen bonds between campus and community.
Dr. James was also the Founding Director of Indiana University South Bend's Civil Rights Heritage Center at the Natatorium; a co-curricular educational and cultural facility that uses civil rights history to promote diversity, inclusion, and improved race relations. He was responsible for creating the vision, launching the Center, training and developing staff, operations, and programming that engaged faculty, students and the community-at-large. He received three grants to establish an African American Landmark Tour of 18 sites with historical significance to South Bend's black migration to the north and advancement toward equal rights. In 2011, the City of South Bend was recipient of the nationally recognized All-America City Award, due in large part to the Center's work to improve racial and ethnic relations in the region.
PROFESSIONAL APPOINTMENTS
2015 – Present  Visiting Assistant Professor, Department of Sociology, University of Illinois at Chicago
2014 -- Assistant Deputy Director, Disparities Research for Change, University of Chicago
2012 – 2015 -- Instructor, Sociology, American Public University/American Military University
2012 – 2014  -- Director, Community Engagement, Adler University
2009 – 2012  -- Founding Director, Civil Rights Heritage Center at the Natatorium, Indiana University South Bend
2008 – 2012 -- Assistant Professor, Department of Sociology, Indiana University South Bend
2006 – 2008 -- Instructor, Department of Sociology, University of Illinois at Chicago
COURSES TAUGHT: Sociological Research Methods, Race & Urban Life, Black Families in the U.S., Sociology of HIV, Race & Civil Rights, Social Problems, Racism & Inequality, Introduction to Sociology, Racial & Ethnic Relations, Community Service Practicum, Social Psychology, Diversity & World Cultures
Education
Ph.D., Sociology, University of Illinois at Chicago (2010)
M.A., Sociology, University of Illinois at Chicago (2004)
B.A., Sociology, Hampton University (2001)