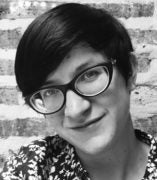 Lain A.B. Mathers
Graduate Student
Sociology
Contact
Building & Room:
4176C BSB
Email:
CV Download:
About
On the Market: 
Lain Mathers is on the job market. Learn more about Lain's dissertation, awards, and publications.
Previous degrees:
B.A. Sociology and International Affairs, Florida State University
M.A. Sociology, University of Illinois Chicago
Specialty areas:
Gender, Sexualities, Religion, Inequalities, Feminist and Queer Epistemology, Symbolic Interactionism
M.A. Title: "Repairing cracked gender frames: Gender panics, individualism, and the politics of "holding it""