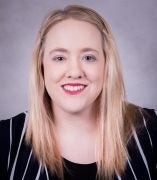 Lydia J. Hou
Graduate Student
Sociology
Pronouns: She/Her/Hers
Contact
Building & Room:
4150B BSB
Email:
CV Download:
About
Previous degrees:
B.A. Sociology, Lindenwood University
M.A. International Studies, Lindenwood University
Specialty areas:
Race, Higher Education, International Students, Gender, Immigration, Qualitative & Mixed Methods, Critical Pedagogies, Sociology of Teaching & Learning
Research interests:
I am a doctoral candidate in the Sociology Department and the research assistant for the Social Justice Research Collaborative at UIC. My dissertation research concerns the role of international students in higher education institutional diversity projects. I am interested in how both international students and domestic students are "given race" or not by colleges and universities, how diversity is "performed" by colleges and universities to various institutional audiences, and in the intersections of race, immigration, economy, and gender for international and domestic students within the global knowledge economy. I am also deeply committed to building up the teaching and learning of sociology as a field, especially with respect to adopting interdisciplinary critical pedagogies in my work as a teacher of undergraduate students.
M.A. Title: "Reducing Global Poverty: An Analysis of the Millennium Development Goals and Policy Prescriptions for Moving Forward"