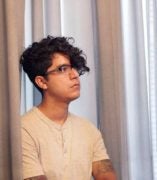 Michael De Anda Muñiz
Graduate Student
Sociology
Contact
Building & Room:
4176C BSB
Email:
CV Download:
About
On the Market
Michael De Anda Muñiz is on the job market. Learn more about his dissertation, recent publications, and awards.
Previous degrees:
B.A. Sociology, DePaul University
M.A. Sociology, University of Illinois at Chicago
Teaching and Research Interests:
Race, Class, and Gender; Latinas/xs/os; Culture; Art; Women of Color Feminisms; De-/Postcolonial Theory; Imperialism and Colonialism; and Global and Transnational Sociology.
Bio:
My dissertation is an ethnographic study of Latina artists in Chicago who regularly produce visual art, sculpture, performance, music, or writing within and with their communities – what I call "community-engaged artists". I engage with cultural sociology, de-/postcolonial theory, women of color feminisms, and queer of color theory to explore the ways that Latina community-engaged artists in Chicago navigate issues of (il)legibility and space to practice and produce their work. I find that white supremacy, patriarchy, and capitalism not only devalue Latina community-engaged artists in the field of art and society, in general, but also render them illegible. I argue that Latina community-engaged artists develop as young artists within "third spaces" and continue to construct and work within third spaces, such as artist collectives, public site interventions, and community events. My research contributes to sociology of culture and art, Latina/x/o Studies, and Gender and Women's Studies.
My teaching is strongly connected to my passion for community activism. Education is a transformative process, and I believe the end goal of this process should be to cultivate and empower students to be active and engaged knowledge producers and agents of social change. I helped develop a community-engaged research project that trained graduate students to produce non-exploitative and useful research on racialized policing in Chicago in solidarity with marginalized communities in struggle. I have also mentored students of color and first-generation college students to successfully navigate higher education. Overall, I aim for students to develop skills that will assist them in reaching their academic, professional, and personal goals and develop a critical consciousness that helps them better understand and transform themselves and the world in which they live.
I practice my pedagogy outside of traditional academic spaces, because I believe in the emancipatory and transformative potential of education. I have led community workshops on art and mass incarceration. I have also shared my creative work at institutions like The National Museum of Mexican Art, University of Chicago, University of Illinois at Chicago, and Comfort Station Logan Square. As a member of The Prison + Neighborhood Arts Project and The 96 Acres Project (two Chicago-based collectives), I have taught and built intellectual communities with incarcerated people at Cook County Jail and Stateville Maximum Security Prison. My students' work and ideas have been shared in community events around Chicago.