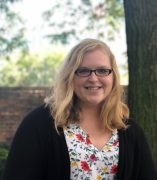 Nicole Muffitt
Graduate Student
Sociology
Contact
Building & Room:
4176A BSB
Email:
About
Previous degrees:
M.A. Ethnomusicology, 2019, Kent State University
B.M. Music Education, BM Trombone Performance, 2016, Kent State University


Specialty Areas:
Identity; Gender; Sexuality; Ethnicity; Work, Organizations, Economy
Research interests:
As an ethnomusicologist, I have explored the ways in which music reinforces individual and community identities. My master's thesis, Performing Desi: Music and Identity Performance in South Asian A Cappella explored the negotiation of ethnicity and nationality using music performance as a stage to perform this dual identity. In sociology, I am interested in culture, organizations, and economics, specifically how cultural products are assigned value and adjudicated. I am also interested in the way culture is produced and used to define individuals and groups.