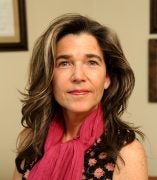 Rachel A. Gordon, PhD
Professor
Sociology
Pronouns: She/Her/Hers
Contact
Building & Room:
4156 BSB
Address:
1007 W Harrison St.
Office Phone:
Email:
CV Download:
About
Joint Appointments: Institute of Government and Public Affairs
Research Interests: Early Learning and Education, Childhood Care, Families and Work, Adolescent Development, Multi-Level and Longitudinal Models
Recent Courses:
Soc 402: Intermediate Sociological Statistics
Soc 501: Introduction to Survey Methods/ Chicago Area Study
Soc 509: Longitudinal Data Analysis
Soc 245: Marriage and the Family
Rachel A. Gordon is a Professor and Director of Research Training in the Department of Sociology, Faculty Fellow and Associate Director for the Social Sciences at the Institute for Health Research and Policy, Senior Scholar and Chair of the System-Wide Working Group on Education and Learning at the Institute of Government and Public Affairs, affiliate faculty in Community & Prevention Research (Department of Psychology, LAS) and in the Department of Educational Psychology (College of Education), and faculty fellow at the Honors College at the University of Illinois at Chicago. She has a B.S. in psychology from Pennsylvania State University and an MPP and PhD in public policy from the University of Chicago.  She received pre-doctoral training in demography and post-doctoral training in work-family research at the NORC Research Centers as well as through the Workshop on Cluster-Randomized Trials in Education at Northwestern University.
Gordon's research broadly aims to measure and model the contexts of children and families' lives, often using longitudinal data sets.  She has examined numerous contextual and social factors relevant to children and families, including the use of child care and preschool quality measures for high-stakes policy purposes, the health outcomes of child care and maternal employment, the implications of teenagers' looks for their social and academic achievement, the association between community context and child well-being, the relationships between youth gang participation and delinquency, the causes and consequences of grandmother co-residential support for young mothers, and the evaluation of an innovative job program for young couples.
Gordon regularly engages with audiences beyond academia in order to both increase the relevance of her research for public decision-making and to share the results of her own and her colleagues' research with policymakers, practitioners, journalists and the public. For instance, from 2006 to 2015, she directed the Illinois Family Impact Seminars which provided evidence-based information to Illinois policymakers, practitioners, and the public on pressing family-policy issues facing the state. Dr. Gordon was also the founding director of NEW Leadership Illinois from 2006 to 2007, a collaboration with the Illinois Conference of Women Legislators (COWL) to support college juniors and seniors to consider careers in public service.
Gordon's professional service extends across many disciplines.  She is co-chair of the 2020 Biennial Meeting Program of the Society for Research on Adolescence, is a member of the Society for Research in Child Development Science and Social Policy Committee (and Chair of the Science Policy Subcommittee), served on the Strategic Planning Committee and Steering Committee of the University-Based Child and Family Policy Consortium, served as a Council Member for the Section on Children and Youth of the American Sociological Association, served on the program committee for the Early Learning and Education section of the 2014 Society for Research on Educational Effectiveness spring meeting, served twelve terms on the Editorial Board of the Journal of Marriage and Family, has served on the editorial board for Social Problems and the American Educational Research Journal, and is currently co-guest editor (with Dale Farran) of a Special Issue of Early Childhood Research Quarterly on Measuring Quality in Early Care and Education: Past, Present, and Future.
Gordon has received a wide range of funding for her research and engagement activities, including research grants from the U.S. Department of Education (Institute of Education Sciences), National Institute of Child Health and Human Development, National Science Foundation, U.S. Department of Agriculture (Research and Innovation Development Grants in Economics [RIDGE] in the Economic Research Service), U.S. Department of Health and Human Services (Assistant Secretary for Planning and Evaluation; Administration for Children and Families), and the U.S. Department of Labor (evaluation contract through Jobs for Youth/Chicago) as well as engagement-related grants from the Foundation for Child Development, MacArthur Foundation, and the William T. Grant Foundation.