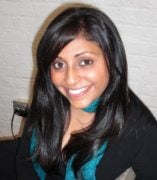 Rupal Satra
Graduate Student
Sociology
Contact
Building & Room:
4051 BSB
Email:
About
Previous degrees:
B.A Biology & Psychology, University of Illinois Chicago
M.A. Applied Medical Anthropology, Oregon State University
Specialty areas:
Global Health & medicine, Sexuality, & Globalization
Research interests:
For my dissertation research, I am exploring the intersections of sexuality, globalization, and sexual and reproductive health among urban, middle-class, adolescents in Mumbai, India.  Specifically, I am interested in understanding how this demographic constructs sexuality in the context of a liberalizing metropolis, and subsequently, how that translates into management of their sexual and reproductive health.
M.A. Title: "The Indian Diaspora: Situating Family Building Patterns in a Migrant Community"