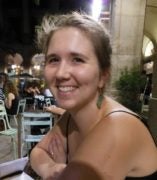 Sarah Patton Moberg
Graduate Student
Sociology
Pronouns: She/Her/Hers
Contact
Building & Room:
4173 BSB
Email:
CV Download:
About
Previous degrees:
B.A. Sociology/Anthropology, Carleton College
M.A. Sociology, University of Illinois at Chicago
Specialty areas:
Economic inequality, sociology of work, labor market stratification by race and gender, labor rights, social movements, urban sociology
Research interests:
My research focuses on economic inequality, labor rights and the organization of work. I am interested in how the trends in nonstandard work arrangements, such as part-time, temporary and contract work, are connected to economic inequality and insecurity. In my research, I also focus on how gender and race shape participation in nonstandard work arrangements, which contributes to disparities in labor market outcomes. My dissertation research will focus on the part-time labor force, in order to develop a clearer understanding of who is represented in the part-time labor force and why, as well as the consequences of changes in the organization of work for workers' rights and well-being.
M.A. Title: "A Piece of the Inequality Puzzle: An Analysis of the Part-time Labor Force in the Postindustrial United States (1976-2015)"