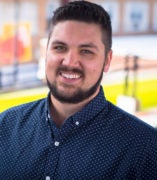 Timothy Adkins
Graduate Student
Sociology
Contact
Building & Room:
Sociology Office: 4074 BSB
Email:
Related Sites:
About
On the Market
Timothy Adkins is on the job market. Learn more about his dissertation, selected publications, and awards.
Previous Degrees:
B.A. Honors double major: Spanish, Sociology—Kent State University (2008)
M.A. Sociology—Kent State University (2010)
Research interests:
Work & Occupations, Men & Masculinities, Organizations & Economy, Research Methods
Dissertation:
"'Bad Jobs' or 'Badass Jobs?' Fishing Guides, Self-Employment, and Interactive Service Work in the New Economy"
My dissertation research intersects two important conversations in the sociology of work—(a) the causes, consequences, and manifestations of emotional labor in service work, and (b) economic restructuring toward non-standard labor relations (e.g. The New Economy, the "Gig Economy"). My research contributes to these scholarly discussions by examining a highly gender-segregated and overlooked occupation in tourism's gig service economy – fishing guides. Fishing guides are largely self-employed, licensed captains who take tourists fishing for a few hours or a few days at a time. In doing so, they face the service imperative of generating a positive experience for their customers, but are also able to rely on the masculinization of maritime work and fishing, as well as their position as independent, short-term contractors to resist the negative aspects of emotional labor that we associate with interactive service work. In addition to bringing men into the discussion of emotion management in the labor process, I also take seriously the shifting meso- and macro-level organizational contexts of their opportunities in the regional tourism economy. Thus, I show how employment structure, worker sex-segregation, and the gendered content of work intersect to influence how these workers' bring complex emotional repertoires into their day-to-day labor and long-term career strategies. This research is increasingly relevant as employment continues to transform toward short-term 'gigging' and tourism grows as one of the largest global employers, re-shaping social and economic life in towns small and large. This project was awarded a Rue Bucher Memorial Award in Qualitative Research from UIC.
Teaching experience:
In addition to research, I have a passion for teaching sociology and mentoring students. I have taught statistics, research methods, social problems, and introductory sociology courses at the undergraduate level. My teaching experience, passion, and mentorship was recognized formally when I was awarded UIC Sociology's 2017 Graduate Student Teaching Award.
Selected Awards:
2018 Rue Bucher Memorial Award for Qualitative Research—UIC Dept. of Sociology
2017 Graduate Student Teaching Award—UIC Dept. of Sociology
Selected Publications
Adkins, Timothy, Paula England, Barbara J. Risman and Jessie Ford. 2015. "Student Bodies: Does the Sex Ratio Matter for Hooking Up and Having Sex at College?" Social Currents 2(2).
Risman, Barbara J. and Timothy Adkins. 2014. "The Goal of Gender Transformation in American Universities: Toward Social Justice for Women in the Academy," in Jon Shefner, Harry F. Dahms, Robert Emmet Jones, and Asafa Jalata (Eds.), Social Justice and the University: Globalization, Human Rights, and the Future of Democracy. New York: Palgrave MacMillan.
Dreby, Joanna, and Timothy Adkins. 2012. "The Strength of Family Ties: How U.S. Migration Shapes Children's Ideas of Family." Childhood 19(2): 169–187
Dreby, Joanna, and Timothy Adkins. 2010. "Inequality in Transnational Families." Sociology Compass 4(8): 673-689.