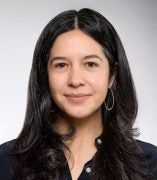 Emily Vasquez, PhD
Assistant Professor
Sociology
Pronouns: She/Her/Hers
Contact
Building & Room:
4126C Behavioral Science Building
Email:
About
Emily Vasquez is an ethnographer of science, medicine, and public health. Drawing on the sociology of health and medicine, science and technology studies (STS), and critical race studies, her research examines how social inequalities—including processes of racialization—are entangled with and reinforced by the production of expert knowledge in these fields. She studies these issues in the context of global health initiatives and policy, especially global and national-level responses to epidemics of chronic disease. She has published on these issues in journals such as Engaging Science, Technology, and Society, American Anthropologist, Perspectives on Science, and Global Public Health and has taught and lectured on them at institutions including Columbia University and the National Autonomous University of Mexico. She completed her PhD in sociology and public health in the Department of Sociomedical Sciences at Columbia University with a dissertation entitled, "(Pre)diabetic Nation: Diagnosing Risk and Medicalizing Prevention in Mexico." This project drew on 20 months of multi-sited ethnographic fieldwork supported by the National Science Foundation (Science, Technology, and Society Program) and the ACLS/Mellon Foundation. Previously, she earned a Master of Public Health (MPH) from Columbia University's Mailman School of Public Health and a Bachelor of Arts from the University of North Carolina at Chapel Hill.
Selected Publications
Articles:
Vasquez, E.E. (2020). Vital Topics Forum: Redefining Diabetes Risk in Mexico. American Anthropologist.  122(3): 670-671.
Vasquez, E.E. & García Deister, V. (2019). Mexican Samples, Latino DNA: The trajectory of a national genome in transnational science. Engaging Science, Technology, and Society. 5[Sl]: 107-134.
Suárez Díaz, E., García Deister, V. & Vasquez, E.E. (2017). Populations of Cognition: Practices of Inquiry into Human Populations in Latin America [Special Issue Introduction]. Perspectives on Science (25)5: 551-563.
Books:
Vasquez, E.E., Perez-Brumer, A.G., Parker, R. (Eds.) (2020) Social Inequities and Contemporary Struggles for Collective Health in Latin America.  Abingdon: Routledge.