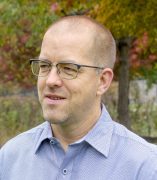 Andy Clarno, PhD
Associate Professor
Coordinator of the Policing in Chicago Research Group
Sociology & Black Studies
Pronouns: He/Him/His
Contact
Building & Room:
4125 BSB
Address:
1007 W Harrison St
Office Phone:
Email:
CV Download:
About
Research Interests: Racism, Capitalism, Colonialism, Empire, Policing, Comparative Racial
Formation, Global and Transnational Sociology, Urban Sociology, Political Sociology
Andy Clarno is associate professor of Sociology and Black Studies and coordinator of the
Policing in Chicago Research Group at the University of Illinois at Chicago. His research
examines racism, capitalism, colonialism, and empire in the early 21st century, with a focus
on racialized policing and struggles for social justice in contexts of extreme inequality.
Andy's first book, Neoliberal Apartheid (University of Chicago Press 2017), traces the
shifting dynamics of racial capitalism and settler colonialism in South Africa and
Palestine/Israel after 1994. The book addresses the limitations of liberation in South
Africa, highlights the impact of neoliberal restructuring in Palestine/Israel, and argues that
a new form of "neoliberal apartheid" has emerged in both regions. Neoliberal Apartheid
received two awards from the American Sociological Association: the Immanuel
Wallerstein Memorial Book Award from the Political Economy of the World System section
and the Paul Sweezy Book Award from the Marxist Sociology section.
Andy is coordinator of the Policing in Chicago Research Group (PCRG), an activist collective
that provides research support to social movements and transformative justice
organizations on the front lines of struggles against raciist policing. Alongside our partners,
the PCRG has published reports on high-tech surveillance, gang databases, predictive
analytics, and data-sharing mechanisms that facilitate coordination between local police,
federal immigration authorities, national security agencies, and allies of the US
empire: Tracked and Targeted, Expansive and Focused Surveillance, Accountability After
Abolition, and Suspicious Activity Reports and the Surveillance State. In Summer 2024, the
University of Minnesota Press will publish our collectively authored book manuscript,
Imperial Policing: Weaponized Data in Carceral Chicago, written with Enrique
Alvear Moreno, Janaé Bonsu-Love, Lydia Dana, Michael De Anda Muñiz, Sangeetha "Ilā"
Ravichandran, and Haley Volpintesta.