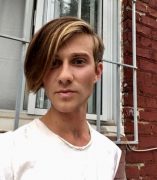 Cal Lee Garrett
Graduate Student
Sociology
Pronouns: They/Them/Theirs
Contact
Building & Room:
Sociology Office: 4111 BSB
Email:
About
Previous Degrees:
B.A. Sociology and Women and Gender Studies, Seattle University
M.A. Sociology, University of Illinois at Chicago
Specialty Areas:
Science, knowledge, and technology; Settler colonialism; Sexualities; Medicalization; Environment; Dis/ability studies; Theory
Research Interests:
Rooted in the frameworks of sociology of science, I research and write on the connections between practices of scientific knowledge production and the persistence of structural inequalities. I am especially interested in uncertainty, incommensurability, expertise, settler colonialism, and heteronormativity. 
Currently, I am publishing on the psychiatric science of gender dysphoria, and the relationship of this science to inclusionary policies about gender identity. My dissertation research takes up scientific biodiversity conservation as a form of land management in the US that enacts novel hierarchies in local communities. Across my research, I am especially interested in cases where new developments in scientific knowledge and practice are presented as minor or uncontroversial social developments. In such cases, like gender dysphoria or biodiversity conservation projects, I study how the appearance of success is accomplished.