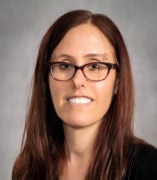 Claire Laurier Decoteau, PhD
Associate Professor
Sociology
Contact
Building & Room:
4112D BSB
Address:
1007 West Harrison St.
Office Phone:
Email:
CV Download:
About
Research Interests:  Social Theory, Cultural Sociology, Sociology of Health and Medicine, Sociology of Knowledge, Sociology of the Body, Globalization, Gender/Sexuality, Race/Ethnicity, and Ethnography

Recent Graduate Courses:
Classical Theory (Soc 585)
Contemporary Theory (Soc 587)
Sociology of the Body (Soc 520)
Claire Laurier Decoteau received her PhD in Sociology from the University of Michigan (2008).  Broadly, her research focuses on the social construction of health and disease, the politics of knowledge production, and peoples' grounded experiences with healing and health care systems.  Decoteau was awarded the 2009 American Sociological Association's Dissertation Award.  Her book, Ancestors and Antiretrovirals: The Biopolitics of HIV/AIDS in Post-Apartheid South Africa (2013, University of Chicago Press) argues that it is through HIV/AIDS policy that the South African government has attempted to balance the contradictory demands of postcolonial nation-building – forced to satisfy the requirements of neoliberal global capital and meet the needs of its most impoverished population.  Drawing on 30 months of ethnographic, discursive and historical research, the book traces the politics of AIDS in South Africa from 1994 through 2010 analyzing: the political economy of the post-apartheid health system, the shifting symbolic struggles over the signification of HIV/AIDS, and the ways in which communities profoundly affected by the epidemic incorporate culturally hybrid subjectivities, informed by both indigenous and biomedical healing paradigms.  This book was awarded three honorable mentions for outstanding book awards from American Sociological Association sections: Medical Sociology; Science, Knowledge and Technology; and the Theory Section.
Decoteau is currently writing her second book, which focuses on the high rates of autism spectrum disorder in Somali diaspora communities in Minneapolis and Toronto.  This three-year qualitative project was funded by the National Science Foundation.  The book focuses on the epistemic communities Somali refugees have forged to make sense of their children's vulnerability to autism, which reflect the marginalization and inequality they have faced as new immigrants and visible minorities.  It compares Somalis' explanations to illness narratives of other main constituency groups within the autism world, explores the complicated politics of autism (and vaccine resistance), compares and contrasts service provision and health inequality in Toronto and Minneapolis, and analyzes the shifting dynamics within the field of autism science. This is the first study of autism to explore the racial, class and national implications of autism etiology and politics.
Decoteau has also engaged in projects focusing on: the US federal vaccine court proceedings on autism where the controversial link between childhood vaccinations and autism development was examined; sex work and transactional sex in South Africa, where gift and commodity exchange become symbolic distinctions in an increasingly neoliberal economy; the epistemic debates that were instigated by the release of the DSM-5; and a series of theoretical and methodological pieces on Bourdieusian action theory and critical realism.
As an Associate Professor at the University of Illinois at Chicago, Decoteau teaches undergraduate and graduate sociological theory as well as courses in the sociology of health and medicine.
Selected Publications
Decoteau, Claire Laurier. 2018. "Conjunctures and Assemblages: Approaches to Multicausal Explanation in the Human Sciences." Political Power and Social Theory Volume 34 (Critical Realism, History and Philosophy in the Social Sciences): 89-118.
Sweet, Paige and Claire Laurier Decoteau. 2018. "Contesting Normal: The DSM-5 and Psychiatric Subjectivation."  BioSocieties 13 (1): 103-122.
Underman, Kelly, Paige Sweet, and Claire Laurier Decoteau. 2017. "Custodial Citizenship in the Omnibus Autism Proceedings."  Sociological Forum 32, 3: 544-565.
Decoteau, Claire Laurier. 2017.  "The 'Western Disease': Autism and Somali Parents' Embodied Health Movements."  Social Science & Medicine 177: 169-176.
Decoteau, Claire Laurier. 2017.  "The AART of Ethnography: A Critical Realist Explanatory Research Model."  Journal for the Theory of Social Behaviour 47, 1: 58-82.
Webinar with the Critical Realism Network
This webinar begins by comparing and contrasting interpretivist, materialist and realist approaches to ethnographic data collection and analysis. It then argues that critical realism is an important (but underutilized) post-positivist tool for ethnographers. The webinar also suggests ways in which critical realism should incorporate insight from both grounded theory and extended case method to avoid essentializing actors' motivations or reifying structural determinants.
"Ancestors and Antiretrovirals:The Biopolitics of HIV/AIDS in Post-Apartheid South Africa" (2013, University of Chicago Press)