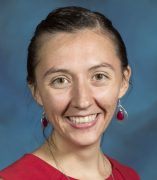 Junia Howell
Visiting Assistant Professor
Sociology
Pronouns: She/Her/Hers
Email:
CV Download:
Related Sites:
About
Junia Howell is an urban sociologist and race scholar who uses quantitative (numbers) and qualitative (narrative) tools to identify and dismantle the specific policies, processes, and practices that uphold White supremacy. Currently, her work focuses on the policies, processes, and practices within the housing appraisals industry, disaster relief, and empirical methodologies.
Her work has been published in over a dozen academic journals including Social Forces, Social Problems, The Sociological Quarterly, Sociology of Race and Ethnicity, Urban Studies, Ethnic and Racial Studies, Population and Environment, Sociology Compass, Socius, Context, and Phylon. It has also been featured in hundreds of news articles across a wide array of outlets, legislative hearings, presidential speeches, and federal and local bills.
Prior to her current position, Howell was an Assistant Professor of Sociology at the University of Pittsburgh. She received her PhD in sociology from Rice University.