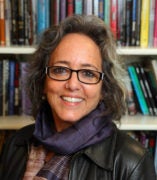 Laurie Schaffner, PhD
Professor Emeritus
Sociology & Gender and Women's Studies
Pronouns: She/Her/Hers
Contact
Building & Room:
4146B BSB
Address:
1007 W Harrison St.
Office Phone:
Email:
About
Research Interests: youth, culture, and the law; gender, sexuality, and the state; urban qualitative research methodology
Recent Courses:
CrJ 421/Soc 231 Juvenile Justice
CrJ 547/GWS 547 Race, Class, Gender, and Justice
CrJ 492 Gender, Sexuality, and the Law
LALS/Soc 225 Racial and Ethnic Minorities
Laurie Schaffner (Ph.D., University of California at Berkeley, 2000) is an associate professor at the University of Illinois at Chicago and a 2007-2008 Fulbright-Garcia Robles scholar at the University of Guadalajara in Jalisco, Mexico. Her research deploys critical perspectives of youth in trouble with the law, with an emphasis on political responses by the juvenile corrections systems, both legal and psychiatric. Drawing upon research using interviews, ethnography, cultural documents, and secondary national data, her recent monograph, Girls in Trouble with the Law, Rutgers University Press (2006) critiques orthodox delinquency theories by uncovering ways in which contemporary youth are punished for the transgressing mainstream gender norms. This research, based on 100 interviews of court-involved girls in the U.S., argues that gender-responsive programs and policies must challenge conventional adolescent stereotypes. Her other books include Teenage Runaways (Haworth Press, 1999) and the co-edited anthology Regulating Sex: The Politics of Intimacy and Identity (Routledge Press, 2005). Her work has earned awards from the American Sociology Association, the Society for Applied Anthropology, and the American Society of Criminology.