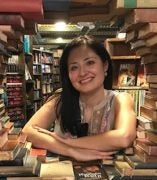 Lorena Garcia, PhD
Associate Professor, Director of Undergraduate Studies & Associate Head
Sociology & Latin American and Latino Studies
Pronouns: She/Her/Hers
Contact
Building & Room:
4112B BSB
Address:
1007 West Harrison St.
Office Phone:
Email:
CV Download:
About
Affiliated Faculty: Latin American and Latino Studies Program; Gender and Women's Studies Program
Research Interests: Gender, Sexuality, Race and Ethnicity, U.S. Latina/os, Youth, and Qualitative Methods
Recent Courses: 
Introduction to Sociology (SOC 100)
Sociology of Youth (SOC 215)
Gender and Society (SOC 224)
Sociology of Latinxs (SOC 229)
Sociology of Gender (SOC 424)
Graduate Seminar: Sociology of Sexualities (SOC 520)
Senior Capstone Experience (SOC 490)
Graduate Seminar: Latinas in the United States (LALS 502/SOC 520)
Graduate Seminar: Sociology of Gender (SOC 524)
Lorena Garcia received her Ph.D. in Sociology with doctoral emphasis in Women's Studies (now the Department of Feminist Studies) from the University of California at Santa Barbara. Her recent book manuscript, Respect Yourself, Protect Yourself: Latina Girls and Sexual Identity (New York University Press, 2012) examines the meaning and practice of safe sex and sexuality in the lives of second-generation Mexican and Puerto Rican girls. The book directs attention to how Latina girls seek to develop and enact their sexual subjectivity and sexual agency and the constraints under which they do this for themselves. Her work has also been published in academic journals including Gender & Society, Latino Studies, and Identities: Global Studies in Power & Culture. She has also co-edited a special issue of the National Women's Studies Association Journal (NWSA) [now Feminist Formations] on Latina sexualities with Prof. Lourdes Torres. Dr. Garcia continues with her theoretical and methodological interest in the intersection of gender, sexuality, and race/ethnicity. She is exploring how social class positioning informs these intersections in her current project on Latina/o families, which focuses on partnering and parenting among Latinas/os.