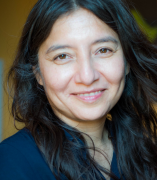 Patrisia Macías-Rojas
Associate Professor
Sociology & Latin American and Latino Studies
Pronouns: She/Her/Hers
Contact
Building & Room:
4140A BSB
Address:
1007 W Harrison St.
Office Phone:
Email:
About
Research Interests: Race; Migration and Mobility; Political Sociology; Borders; Globalization; Sociology of Punishment; Law and Society; Ethnography; Comparative Historical Methods. 
Patrisia Macías-Rojas received her PhD in Sociology from The University of California, Berkeley. She is an Associate Professor in Sociology and Latin American and Latin Studies at the University of Illinois at Chicago. Broadly, her research focuses on 1) race and immigration after the civil rights movement; 2) the global and racial politics of migration and border controls; 3) the merger of the immigration and criminal legal systems and the criminalization of long-term residents in US-Mexico border communities. 
Her first book, From Deportation to Prison: The Politics of Immigration Enforcement in Post-Civil Rights America (NYU Press, October 2016), draws on over a decade of archival and ethnographic research on the US-Mexico border to examine how immigration offenses became one of the leading charges sending people to prison. It is one of the first book-length monographs to analyze the socio-political origins of the punitive turn in immigration control, foregrounding the understudied role of race, civil rights, and mass incarceration in transforming the immigration system.  It also charts the transformation and fundamental restructuring of deportation and detention, marked by a post-civil rights enforcement terrain that blends "civil rights" and crime control approaches to justify more punitive approaches to migration and border controls. The book also captures how reorganizing immigration enforcement around crime control transformed the day-to-day practices of Border Patrol agents, local law enforcement, civil and human rights advocates, migrants, and the predominantly Latina/o residents in border communities. From Deportation to Prison won the 2017 Oliver Cromwell Cox Book award from the American Sociological Association's Section on Racial and Ethnic Minorities.
Macias-Rojas's newest research examines the politics of bed space in prisons, detention centers, and hospitals that are at the center of political struggles intensified by the COVID-19 pandemic. Taking the seemingly benign object of the bed as an entry point, the project analyzes how bed capacity became a critical piece of infrastructure that informs where funding will go, who will supply and fill beds, and even the treatment and conditions that people will experience. The project builds upon her earlier research that uncovered important links between prison overcrowding and bed space expansion in the immigration and criminal legal systems.
Macias-Rojas is also currently working on a historical project about race, immigration, and populism and the ways in which rightwing populist movements mobilize the immigration issue. She has also written about 1) the Democratic Party and immigration politics; 2) the convergence of border security and domestic policing; and 3) detention and confinement.
Macias-Rojas teaches undergraduate and graduate courses in race and migration as well as global and transnational sociology. Prior to joining the faculty at UIC, she taught in the Sociology Department at Sarah Lawrence College in New York. 
Selected Publications:
Macias-Rojas, P and Tazzioli, Martina, "Detention/Containment/ Confinement." In Special Issue:  Minor Keywords of Political Theory: Migration as a  Critical Standpoint, edited by Nicholas De Genova and Martina Tazzioli, Environment & Planning C: Politics and Space (March 2021). 
Macías-Rojas, P. (2021). Liberal Policies, Punitive Effects: The Politics of Enforcement Discretion on the US-Mexico Border. Law & Social Inquiry, 46(1), 69-91.
Macías-Rojas, P. (2018). Immigration and the war on crime: Law and order politics and the illegal immigration reform and immigrant responsibility act of 1996. Journal on Migration and Human Security, 6(1), 1-25.
Macías-Rojas, P. (2018). The prison and the border: An ethnography of shifting border security logics. Qualitative Sociology, 41(2), 221-242.
Macías-Rojas, P. (2016). From deportation to prison: The politics of immigration enforcement in post-civil rights America(Vol. 2). NYU Press.