Colloquium Series
We host a colloquium twice a month that brings in sociologists and other social scientists to discuss recent or ongoing projects. The series features scholars from UIC and around the country. A colloquium typically involves a research presentation or a panel of scholars followed by a lively Q&A.
Lunch with the Presenter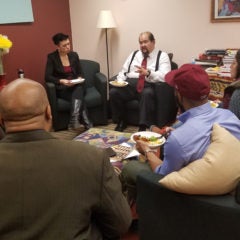 Graduate students in our department have the opportunity to get lunch with the colloquium presenter. This more intimate setting allows our graduate students to connect with leading scholars and ask specific questions about research and life as a scholar and professor.
Past Colloquium Events
Spring 2018
"Policing in Chicago: Ethnographies of Surveillance" January 31, 2018
Lydia Dana, Mariya Khan, and Enrique Alvear, University of Illinois at Chicago
"Following Questions Where They Lead" February 14, 2018
Rachel Gordon, Paul-Brian McInerney, and Pamela Popielarz, University of Illinois at Chicago
"A Parade of Half Baked Ideas" February 28, 2018
Amelia Branigan, Cal Lee Garrett, Atef Said, and William Scarborough, University of Illinois at Chicago
"The 'Western Disease': Epistemic Contestations over Autism in the Somali Diaspora" March 14, 2018
Claire Decoteau, University of Illinois at Chicago
"The Church and the Streets: Black Sexual Minority Women in the Pre-Stonewall Era" April 11, 2018
Mignon Moore, Barnard College
Fall 2017
"We Demand: The University and Student Protest" September 13, 2017
Roderick Ferguson, University of Illinois at Chicago
"The Politics of Policing" September 27, 2017
Andy Clarno, Cedric Johnson, and Patrisia Macias-Rojas, University of Illinois at Chicago
"A Procedural Theory of Culture" October 11, 2017
Omar Lizardo, Notre Dame University
"Family Characteristics and Growing Wealth Inequality in the United States, 1989-2013" October 25, 2017
Christine Percheski, Northwestern University
"Whites to the Front of the Line: Race and Sexual Preference on a Gay Hookup App" November 8, 2017
Jody Ahlm, University of Illinois at Chicago